More than fast! 丨BioGerm BG-Nova-X8 nucleic acid detection system, a new-concept all-in-one machine incorporating CRISPR, magnetic bead extraction and high-throughput robot arm techniques, was approved for marketing.
This is the first molecular POCT all-in-one machine employing CRISPR technique in China achieving full automation and integrating the whole CRISPR detection process, which is able to complete the detection of 24 samples within just 30 min.
Sep 24,2021
This is the first molecular POCT all-in-one machine fully implanting magnetic bead extraction technique in China. Samples are loaded through the sample tube directly, and the magnetic bead extraction could effectively reduce false positives.
This is the first molecular POCT all-in-one machine using high-precision robot arm in China, achieving a pipetting accuracy to 0.1 μL. The standardized operation process significantly ensures the stability of the results.
This is the first molecular POCT all-in-one machine with three modules running independently in China, breaking the limit of batch loading, integrating functions of three machines into one.
The BG-Nova-X8 Integrated Rapid Nucleic Acid Detection System, independently developed by BioGerm, (Registration Certificate number: GXZZ 20213220715), has attracted extensive attention in the molecular diagnosis market once it is Approved. This equipment, oriented towards POCT application settings, incorporates considerable advanced techniques, including CRISPR, magnetic bead extraction, and high-precision robot arms, which is an essential constitution for the construction of fever clinics in emergency shunting!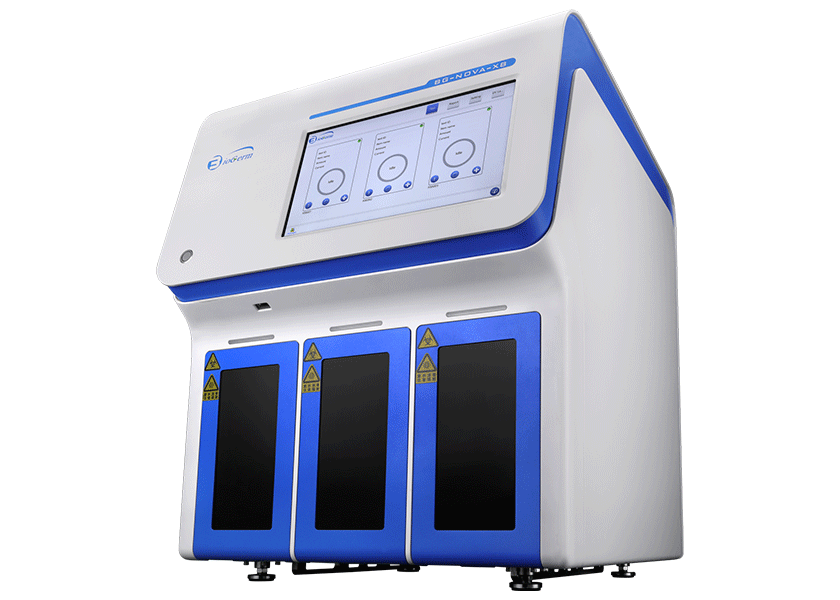 Get a first glimpse of technical parameters!

In terms of its technical parameters, this device is equipped with a good deal of patented techniques developed by BioGerm, which is able to complete the detection of 24 samples within just 30 min with the help of the concurrent approved 2019-nCoV Nucleic Acid Detection Kit (isothermal CRISPR method); innovatively, this device adopts nano-magnetic bead nucleic acid extraction technique to improve the nucleic acid purity of rapid detection products. Meanwhile, with a high-throughput and high-precision mechanical pipette arm system on the molecular POCT all-in-one machine, it is also a precedent in the designing of molecular POCT products.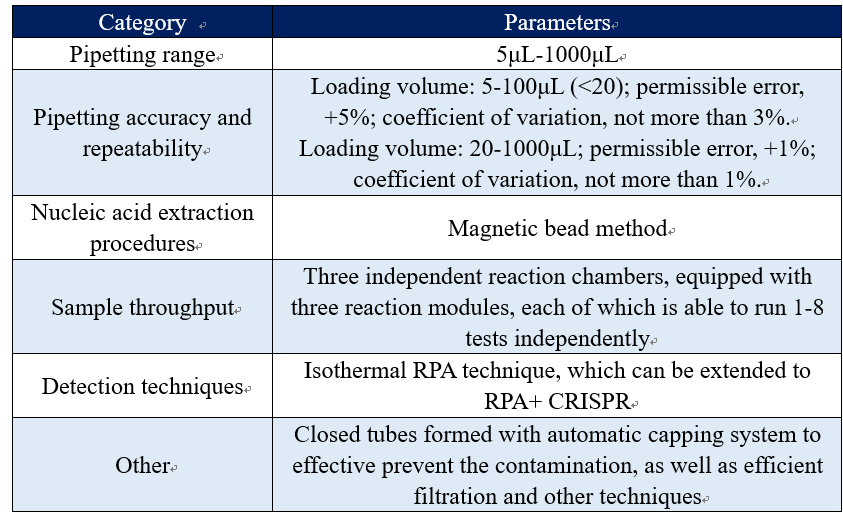 The first fully automatic solution using CRISPR diagnostic technology in China As a gene-editing tool with broad application prospects, CRISPR is used in molecular diagnosis mainly due to its specificity: under the guidance of guide RNA, CRISPR-Cas protein specifically recognizes target sequences, and even can accurately distinguish single base differences.
Furthermore, an undifferentiated trans-cleavage activity will be induced from Cas protein after it contacting the target sequence to efficiently cleave all cleavable nucleic acid sequences around, thus amplifying the signal. CRISPR diagnostic system, provided with specific recognition and undifferentiated cleavage, is featuring accuracy and efficiency.
The Nobel Prize in Chemistry in 2020 was awarded to Emmanuelle Charpentier and Jennifer A. Doudna for the discovery of CRISPR, which is taken as an invention to change and benefit mankind. CRISPR is also deemed as the next-generation molecular diagnosis technology!


The 2019-nCoV Nucleic Acid Detection Kit (isothermal CRISPR method) of BioGerm, approved concurrently with the equipment, adopts CRISPR technology. Samples are amplified with RPA isothermal technology following extraction using magnetic beads, and then they are cut, amplified and detected by CRISPR. All the detection procedures can be completed within 30 min. This whole set of solutions is the output of the national key Technologies R & D program of the Ministry of Science and Technology.
The first CRISPR-based 2019-nCoV nucleic acid detection product was approved in last December, but it was not widely used in clinical practice due to its complicated procedures. Nevertheless, BioGerm BG-Nova-X8 system realizes the whole process automation, achieving the full potential of CRISPR technology. Owing to low temperature dependence and stronger specificity, it has unique advantages in rapid detection of molecular POCT. This is also the first commercialized fully automatic solution using CRISPR diagnostic technology in China, with both scientific research and application attributes.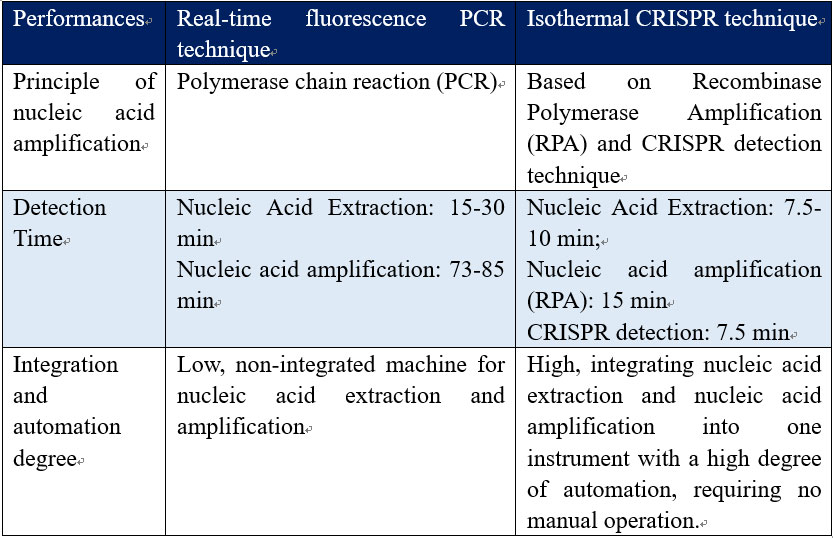 Classic magnetic bead technique ensures fast and accurate results
As a carrier of genetic information, nucleic acid is the most important biological information molecule. To obtain high-quality nucleic acid is an important prerequisite for molecular biology research. The common methods of nucleic acid extraction include cleavage release method, silica-based adsorption extraction method (column method) and magnetic bead adsorption extraction method (magnetic bead method). Up to date, the magnetic bead method is the most frequently used method.
As for emerging product forms such as molecular POCT and rapid nucleic acid detection, while pursuing convenience and speed, how to ensure the accuracy of detection results has become a critical technical concern. Currently, the molecular POCT-based and rapid nucleic acid extraction methods mainly include the following: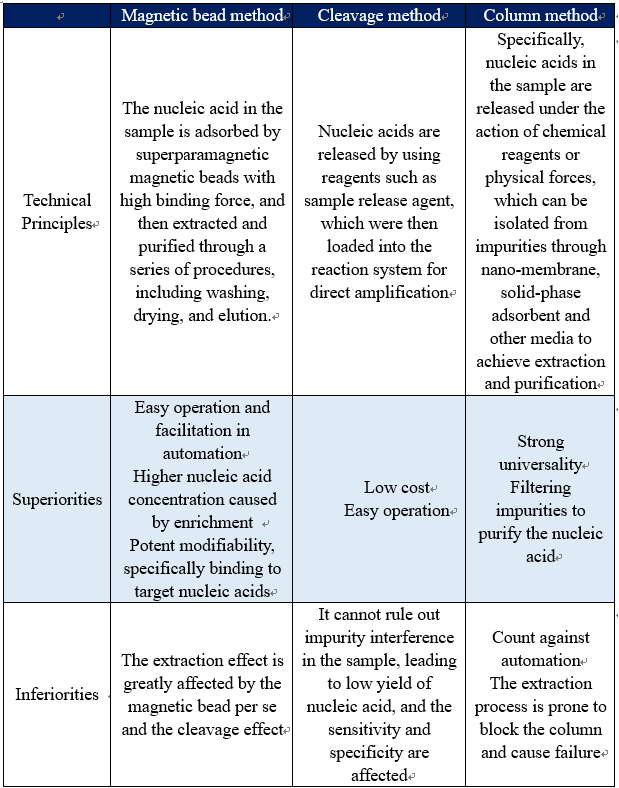 In pursuit of rapid detection, BioGerm BG-Nova-X8 system adopts superparamagnetic magnetic beads in nucleic acid extraction, which makes the nucleic acid yield after molecular POCT almost equivalent to that obtained in the standardized PCR lab. According to the published data, the extraction efficiency can reach 98%. Integrating the magnetic bead method in the molecular POCT all-in-one machine to extract nucleic acid is a highlight of this device, which takes the accuracy and specificity into account while pursuing speed.
High-precision robot arms to break the upper limit of throughput and ensure the stability of results

BG-Nova-X8 system is divided into three independent chambers, which run independently. Each module chamber can be loaded with up to 8 samples at a single time, breaking the limitation of the conventional molecular POCT all-in-one machine in terms of sample throughput. Each sample has a corresponding pipette arm, and can be subjected to extraction at the same time, thus achieving inspection upon arrival to save considerable time; another advantage of this solution is that it can reduce the detection cost dramatically in that one machine is equivalent to three machines of small throughput, which reduces the cost.
The BG-Nova-X8 system adopts a high-precision robot arm, which can complete 5 μL-1000 μL liquid transfer, achieving an accuracy to 0.1 μL; the standardized high-precision liquid transfer process not only saves considerable manual operations, but also ensures the reliability of test results. The high-precision robot arm pipetting technique coupled with a sample tube for direct sample loading on the machine is a rare design in the approved molecular POCT all-in-one machine.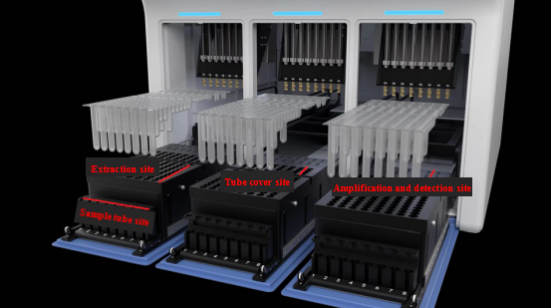 Committed to producing high-quality products and coping with difficulties of customers
The fever clinic is a key setting for the early detection of 2019-nCoV (SARS-CoV-2) infection, hence, to improve the virus nucleic acid detection ability of the fever clinic has become a hot market orientation. On September 1, the Bureau of Medical Administration of the National Health Commission issued the Notice on Further Strengthening the SARS-CoV-2 Nucleic Acid Detection in the Fever Clinic, proposing that fever clinics should establish independent labs to carry out nucleic acid detection.
Up to now, there are more than 12,000 public medical facilities across the country, and fever clinics are faced with equipment procurement-rushes with the construction of labs. Undoubtedly, molecular POCT all-in-one machine and nucleic acid rapid detection equipment are at the predominant position this time. The BioGerm product approved this time are not only equipped with high throughput, but also adopts techniques such as magnetic bead extraction, mechanical arms and CRISPR, which is granted specific advantages in pathogen detection. Thus, there are abundant application settings for it. In addition to fever clinics, it can also be used in mobile cabin labs, mobile detection vehicles, customs ports, emergency triage and other settings.
"BioGerm Nova-X8, more than fast"! It's the first device to adopt classical magnetic bead nucleic acid extraction technology on POCT all-in-one machine to ensure accurate results; it's the first marketed all-in-one machine incorporating CRISPR technique, with both scientific research and application attributes; it is equipped with integrated high-precision robot arms to standardize the whole process of molecular detection and ensure the reliability of results. The application of these three core techniques has conferred on BioGerm's product a balance in terms of detection throughput, testing cost and equipment flexibility. Its inventiveness is laudable! This machine is not only the embodiment of BioGerm's strong R & D strength, but also a commitment for customers and front-line needs!